Vi-Tek 93® Plus - Natural Daylight Full Spectrum Light Bulbs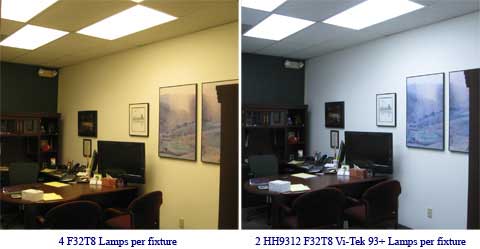 Studies show that people see, feel and work better under light whose color appearance closely approximates that of natural outdoor light. At 6700K, Vi-Tek 93® Plus not only recreates the refreshing coolness of natural north-sky daylight, its the brightest natural-daylight-simulating fluorescent you can buy! It's so bright, in fact—3,210 lumens from a 40-watt tube—that when energy conservation is a priority, two full spectrum light bulbs can be used in place of the four conventional tubes you are now using.
But Vi-Tek 93® Plus is more than just bright. It's full-spectrum light enhances the work environment because it aids visual perception. Colors appear as they would outdoors. Figures, graphs and fine print appear more distinct. Glare on computer screens is greatly reduced. The quality of light is so good that Vi-Tek 93® Plus full spectrum light bulbs may be used for light therapy in the treatment of SAD (Seasonal Affective Disorder) or "winter blues."
Selected Vi-Tek 93® Plus fluorescents feature an exclusive triple coated barium carbonate cathode design that eliminates the need for light-blocking cathode shields, allowing for a full flow of brilliant white light from lamp tip to lamp tip. No shadows, no dark spots, no unsightly end blackening—even after thousands of hours of use.
In addition, these lamps are low-mercury TCLP-compliant models that reduce mercury contamination when the lamps are eventually discarded. RIP Engineering assures reliable operation in Rapid Start, Instant Start, and Programmed Start fixtures. Vi-Tek 93® Plus full spectrum light bulbs come in many sizes and wattages.
Color Temperature of 6700K closely matches that of natural, north-sky daylight. Vi-Tek 93® Plus is the brightest sunlight-simulating fluorescent and the only 6700K lamp on the market
Brings bright, white, stimulating natural light indoors...day or night...around the clock. Blends beautifully with window light.
---
Simulates the full color and ultraviolet spectrum of daylight. Color Rendering Index of 93 compared to natural outdoor light at 100 and Cool White fluorescent at 62
Assures keen visual perception, maximum eye comfort, near-perfect color rendition, and pleasant glare-free illumination. Shows color and detail with the same accuracy as natural outdoor light. May even be used for the treatment of SAD.
---
Exclusive triple barium carbonate cathode design
Eliminates the need for cathode shields, allowing a full flow of light from tip to tip. No shadows, dark spots, no end-blackening.
---
Selected models are low mercury and TCLP-compliant
Reduces mercury contamination when lamps are discarded.
---
Life-rated up to 50,000 maintenance free hours, with up to a 60 month Free Replacement Warranty
Long burning life reduces maintenance and replacement costs. Fewer mercury-containing lamps end up in the garbage dump.