Task-Master™ Obstruction Light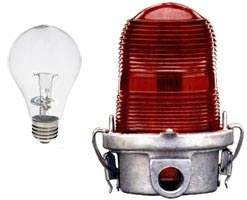 Looking for the perfect companion to our Code Beacon lamps? Then try the H&H 116-watt Task-Master Obstruction lamps.
Featuring our super strong C-9 Filament construction, they'll burn brightly and dependably through shock and vibration for 8,000 maintenance-free hours.
Our nickel plated brass base can't corrode or freeze in the socket.
One-year Free-Replacement Warranty.