Funeral Home Lighting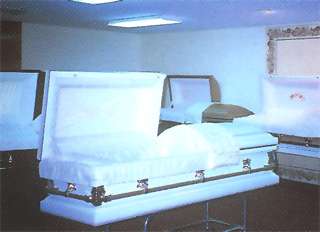 People select a funeral home for many reasons. Not the least among them is a soothing ambiance. Tastefully decorated rooms. Comfortable furniture. And lighting that provides a reassuring presence of warmth, intimacy, and security.
We at H&H can help with lights so you can create that comforting atmosphere for your funeral home. In fact, we offer the nation's largest selection of premium-quality incandescent bulbs and fluorescent tubes for almost every conceivable funeral home lighting fixture and lamp light application from the chapel to the casket selection area to the parking lot.
Your H&H lighting specialist will help you choose funeral home lighting fixtures that:
Creates a quiet ambiance to make visitors feel as relaxed as possible.
Promotes visual acuity for preparation and cosmetic work.
Lowers your lighting bill to the minimum.
Outlasts standard light bulbs, saves on replacement bulbs, reduces bulb-changes.
Is covered by our "no-nonsense" Free-Replacement Warranty.
And, aside from our wide array of quality lighting products, we also offer a unique and valuable personal lighting service obtainable nowhere else.