Workshop & Garage Lighting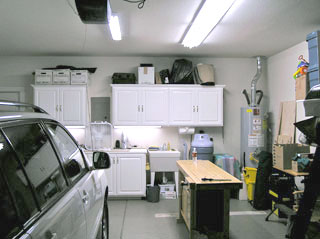 Improve your workshop and garage lighting and make it easier to see in. H&H has the lamps to improve your lighting in the ceiling, over the work bench and under the hood.
Our Vi-Tek 93® + lamps are full spectrum fluorescent lamps that bring the natural daylight outside in for your workshop and garage lighting, making it easier to see. Plus with their high color rendering the Vi-Tek 93® Plus lights make colors look the same in the outside as they do inside.
Convert Existing Garage Lighting
Inefficient T12 garage lighting fixtures can be converted with our retrofit kits to help save energy while improving your lighting or replace the T12 fixtures with highly efficient T8 Fixtures with Vi-Tek 93® Plus lamps so you can increase your light levels and decrease your energy usage. Plus our fixtures and retrofit kits have a -20° start ballast so you will not have the swirling lamp effect on cold winter mornings.