Full Spectrum A Shape CFL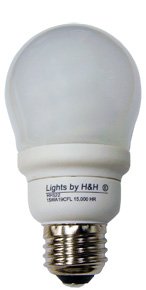 The HH522 is a 15 watt A19 shaped Vitek93+ compact fluorescent lamp. It is the brightest whitest CFL available in an incandescent looking shell. At 6700 degree kelvin and 93 CRI you have the best usable light available.
It can be put in about anyplace a normal A19 incandescent lamp is used. In your table lamp for a brighter whiter lamp with better see ability. Recessed cans, bathroom vanities, trouble lights, medium based fan kits, wall sconces, pendant drop lighting, and most any medium based socket application.
** Do Not Use With Dimmers or Touch Lamps **
Not Recommended in Enclosed Unvented Fixtures.