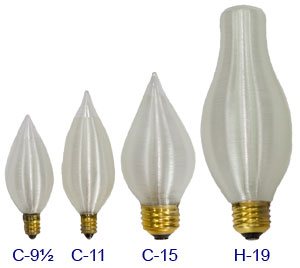 H&H offers one of the widest selections of decorative incandescent light bulbs in the lighting industry. And no matter which bulb you choose, it's guaranteed to add charm, glamor, excitement and drama to any decor. But our decorative lamps do even more than that.
Life-rated up to 12,000 hours, they'll outlast ordinary decorative lamps several times over. They'll save money on maintenance and replacements and, in some cases, energy. You'll buy far fewer bulbs in the long run and replace them far less often.
H&H vintage style incandescent light bulbs are available in a wide assortment of wattages, sizes and colors for use in chandeliers, wall sconces, starburst fixtures, post lights, and many other decorative applications. Included are candelabra bulbs in clear and spun fiberglass finish, as well as attractive chimney-shaped lamps.