Lighting Fixtures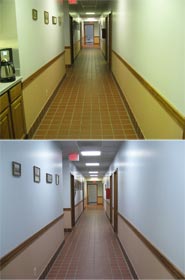 What good is the best light in the world without the right gear to make it shine? H&H offers just about everything you need to get your lights fitted, retrofitted, plugged in, hooked up, and good to go – so you can start seeing better while saving energy.
We've engineered our light bulbs to be the best they can, and when combined with our fixtures, the light you get is even better and brighter. Using our 6700K fluorescent bulbs in our high ballast-factor ballasts retrofit kits and fixtures increases the light output, and the specially engineered reflector we include then ensures all that light gets evenly distributed.
H&H Watthawk fluorescent light fixtures and Reduce-A-Watt retrofit kits offer a wide variety of different options to not only enhance the work environment but also lower the energy and operating costs. With our new 50,000 hour T8 Vi-Tek 93® Plus lamp all H&H T8 Watthawk fixtures and Reduce-A-Watt retrofit kits are warrantied for 5 years saving on maintenance costs.
With instant-on capability there's no more waiting for those metal halides to cool down and restrike. If you're looking for the finest lighting available for your factory, store, office building, or even your garage choose Watthawk fluorescent light fixtures or Reduce-A-Watt Retrofit Kits and Vitek 93+ lamps and the rest is history.
Not sure where to start? We're here to help! Let's chat.