H&H's incredible Workbench Fixtures are just like regular shop lights – on steroids. By combining our 32 watt Vi-Tek 93® Plus natural daylight T8 lamp with the high ballast factor ballasts of these fixtures, you get 20 to 30 percent more light output. Our specialized multi-faceted reflectors then ensure that increased, improved, high-quality light output shines brightly and evenly, with no shadows or hot spots.
For smaller areas where excellent, true, and shadow-free lighting is needed close by, these lights are the best available on the market. Some applications include: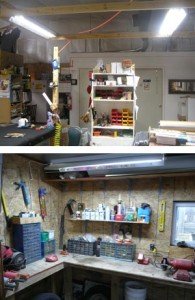 Hobbies that involve sewing, quilting, wood working, or other detailed work.
Dental Labs use this product as a task lamp for detail and color-matching work.
Retail Shops use this in their display windows to show products in their best light, and draw shoppers' attention.
Automotive repair shops use this over their technician's bench for detail work and for preparing parts to be installed on vehicles.