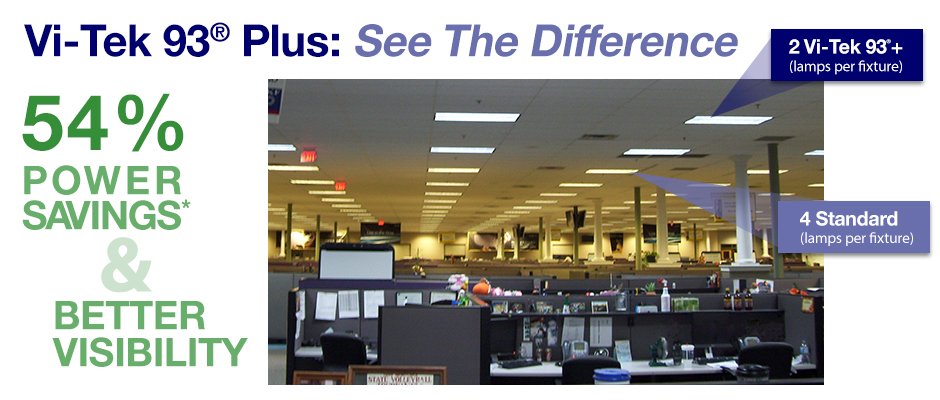 The Best, The Brightest, The Truest:
Vi-Tek 93® Plus Fluorescents
The World's Best, Brightest, Full-Spectrum Daylight-Simulating Light Bulb!
When it comes to bringing outdoor light indoors, nothing beats H&H's Vi-Tek 93® Plus. These superior lamps are the best, natural daylight, full-spectrum fluorescent light bulbs on the market. They simulate both the full color and the full ultraviolet spectrums of daylight, with a Color Rendering Index (CRI) of 93 compared to natural outdoor light at 100, and Cool White fluorescent at 62. Colors appear as they would outdoors, making them ideal for color-matching work. Figures, graphs, and fine print appear more distinct, and glare on computer screens is greatly reduced.
But it's not just the quality of light that's unmatched: We stand behind our materials and craftsmanship. Vi-Tek 93® Plus bulbs are warrantied for up to 50,000 hours and five years. If a bulb burns out before its time, simply let us know and we'll replace it – no questions asked. And with a variety of shapes and sizes and the best full-spectrum tube light on the market, we've got just what you need to brighten up your space.
Not sure where to start? We're here to help! Let's chat.
*The original 4 T12 40 watt lamps with their ballasts consumed 168 watts.
The 2 Vi-Tek 93® Plus full-spectrum fluorescent light bulbs on a new 2 lamp high ballast factor T8 ballast consume 77 watts.
This results in a power savings of 54%. Your power savings will depend on your current installation.