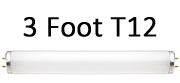 3 Foot T12

30 Watts
2,310 Lumens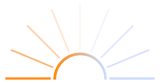 6700K
(Brightest White)
93 CRI
40 Month Warranty
Product Description
Vi-Tek 93® Plus is the best, natural daylight, full-spectrum fluorescents on the market. Colors appear as they would outdoors, making them ideal for color-matching work. Figures, graphs and fine print appear more distinct. Glare on computer screens is greatly reduced. The quality of light is so good that Vi-Tek 93® Plus full spectrum light bulbs may even be used for light therapy in the treatment of SAD (Seasonal Affective Disorder) or "winter blues."
With our no-hassle, no-questions-asked replacement warranty, you've got nothing to lose! Make the switch today to the best, brightest, full-spectrum natural daylight fluorescent lamps on the market.
Have a question? We're here to help! Let's chat.
Features
6700K Color Temperature
Vi-Tek 93® Plus is the brightest sunlight-simulating fluorescent and the only 6700K lamp on the market. 6700K closely matches natural north-sky daylight and blends beautifully with window light.
Color Rendering Index of 93
Simulates the full color and ultraviolet spectrum of daylight. Vi-Tek 93® Plus with a 93 CRI compares to natural outdoor light at 100 and cool white fluorescent at 62 CRI.
Assures keen visual perception, maximum eye comfort, near-perfect color rendition, and pleasant glare-free illumination. Shows color and detail with the same accuracy as natural outdoor light. May even be used for the treatment of SAD.
Low Mercury and TCLP-compliant
Reduces mercury contamination when lamps are discarded.
40,000 Hour Rated Life
Comes with a 40 Month free replacement warranty and the long burning life reduces maintenance and replacement costs.
Exclusive triple barium carbonate cathode design
Eliminates the need for cathode shields, allowing a full flow of light from tip to tip. shadows, dark spots, no end-blackening.
Specifications
Lamp Type
Linear Tube
Lamp Shape
T12
Lamp Base
Medium Bi-Pin (G13)
Material
Glass
Watts
30W
Lumens
2,310 Lumens
Color Temp
6700K
(Brightest White)
CRI
93
Length
36 Inches
Diameter
1.5"
Lamp Life
40,000 Hours
Warranty
40 Months
Made In
Germany
Case Quantity
25