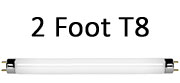 2 Foot T8
17 Watts

1,050 Lumens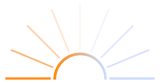 6700K
(Brightest White)
93 CRI

2 Year Warranty
Product Description
Vi-Tek 93® Plus is the best, natural daylight, full-spectrum fluorescents on the market. Colors appear as they would outdoors, making them ideal for color-matching work. Figures, graphs and fine print appear more distinct. Glare on computer screens is greatly reduced. The quality of light is so good that Vi-Tek 93® Plus full spectrum light bulbs may even be used for light therapy in the treatment of SAD (Seasonal Affective Disorder) or "winter blues."
They're also high-efficiency. Save up to 56% on per-fixture energy consumption, and with 1,050 lumens from a 17-watt tube, 2 full spectrum light bulbs can be used in place of 4 conventional tubes.
With equivalent or better energy savings, and our no-hassle, no-questions-asked replacement warranty, you've got nothing to lose! Make the switch today to the best, brightest, full-spectrum natural daylight fluorescent lamps on the market.
Have a question? We're here to help! Let's chat.
Features
6700K Color Temperature
Vi-Tek 93® Plus is the brightest sunlight-simulating fluorescent and the only 6700K lamp on the market. 6700K closely matches natural north-sky daylight and blends beautifully with window light.
Color Rendering Index of 93
Simulates the full color and ultraviolet spectrum of daylight. Vi-Tek 93® Plus with a 93 CRI compares to natural outdoor light at 100 and cool white fluorescent at 62 CRI.
Assures keen visual perception, maximum eye comfort, near-perfect color rendition, and pleasant glare-free illumination. Shows color and detail with the same accuracy as natural outdoor light. May even be used for the treatment of SAD.
Low Mercury and TCLP-compliant
Reduces mercury contamination when lamps are discarded.
24,000 Hour Rated Life
Comes with a 2 year free replacement warranty and the long burning life reduces maintenance and replacement costs.
Specifications
Lamp Type
Linear Tube
Lamp Shape
T8
Lamp Base
Medium Bi-Pin (G13)
Material
Glass
Watts
17W
Lumens
1,050 Lumens
Color Temp
6700K
(Brightest White)
CRI
93
Length
24 Inches
Diameter
1"
Lamp Life
24,000 Hours
Warranty
2 Year
Made In
Germany
Case Quantity
25
Spec Sheet: HH9316 Spec Sheet