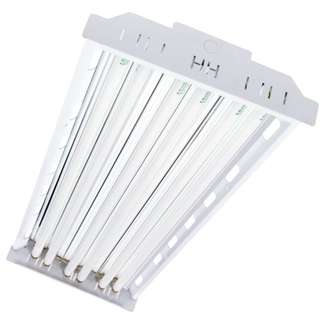 6 Lamp T8 Watt-Hawk
HH3101
H&H's 6 lamp, T8, 4-foot, high-efficiency Watt-Hawk™  fixture (part #HH3101) is the finest fixture in the lighting industry. When it comes to replacing your old high bay HID fixtures, this is the easiest choice. Utilizing our Vi-Tek 93® Plus lamps with this exclusive fixture provides the highest quality, most efficient light available!
In most instances you can cut your energy usage more than half, while upgrading to the highest quality of light available on the market today! H&H's Watt-Hawk™ fixtures are proudly built in the USA and offer up to a five year no-nonsense warranty!
ThisWatt-Hawk™ fixture features instant-on capability, with no cool-down or start time – even after a power outage, and it comes standard with universal voltage 120-277 (480 available), as well as air craft hanging cable.  A quick-connect power cord receptacle is available in 7 different plug types, and wrap-around lenses and wire guard are available as additional options.
Our rugged, reliable, long-lasting fixtures are meant for use with our superior line of fluorescents, including our Vi-Tek 93® Plus lamps, which are the best natural daylight, full-spectrum fluorescents lamps on the market – and our multi-faceted, exclusive reflectors ensure their light shines brightly and evenly, with no shadows or hot spots. It's truly like taking the roof off the building to let the daylight in, and the results are extraordinary, as you can see!
By using Vi-Tek 93® Plus lamps with our high quality USA-engineered fixtures, H&H will also guarantee reducing your energy usage.Save up to 56% on per-fixture energy consumption, and with 3010 lumens from a 32-watt tube, 2 full spectrum light bulbs can be used in place of 4 conventional tubes. Whatever your business entails, from factories, manufacturing facilities, warehouses and machine shops to to greenhouses and gymnasiums, H&H Watt-Hawk™ fixtures produce the finest quality lighting imaginable.
See below for more specs and details. Have a question? We're here to help! Let's chat.
Product Description
Energy Savings
| | | | |
| --- | --- | --- | --- |
| Replace | Watts | T8 Watt-Hawks | Savings |
| 400W Metal Halide | 458 | 222 | 236 Watts |
| 250W Metal Halide | 293 | 222 | 71 Watts |
| 400W High Pressure Sodium | 467 | 222 | 245 Watts |
| 250W High Pressure Sodium | 300 | 222 | 78 Watts |
| F96T12VHO | 482 | 222 | 260 Watts |
| F96T12HO | 238 | 222 | 16 Watts |
Quick Connect Power Cord Receptacle
7 different power cords available for use with the quick connect power cord receptacle.
Lamp Retaining Rail
Allows for ease of lamp installation and replacement.
Solid 20ga (.032") Steel Body
Cold rolled steel body is painted with a smooth, glossy, highly reflective white enamel paint and has sufficent knockouts for mounting and electrical supply.
Universal Voltage 120-277 Volt Ballast
Less noise than metal halide and no waiting for cool down and restrike. The high lumen ballast has a -20º F start and a NEMA ballast disconnect. 480 Volt is available.
Venting And Uplighting
Venting holes allow heat to escape and keeps dust from collecting on the lamps or reflector. 5% uplighting allows for ceiling and duct work maintenance.
Mounting
Fixture is designed for gripple aircraft cable installations.
Tool-Free Reflector Attachement
No tools are required for reflector installation or removal.
Quality Cam-Lock Lampholders
Prevents the lamp from slipping out.
95% Specular Reflector
The CNC formed .020" specular aluminum reflector has 4 mirrored angles per lamp for unsurpassed lamp imaging. The reflector produces even lighting patterns to eliminate shadows and hot spots.
Optional
Wrap lens and bolt-on wire guard are available.
Warranty
The fixture, ballasts and lamps are warrantied for 5 years (3 years with HH301).
Specifications
Length:
 4'
Warranty:
 5 Year Manufactured from US Steel and Assembled in USA NO Color Shift No Cool Down and Restart Time Lower Lumen Depreciation Lamp is Instant On Noise Reduction
Dimensions

Covers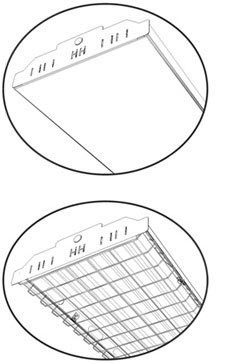 Optional Wrap Lens Optional Bolt-on Wire Guard
Lumen Depreciation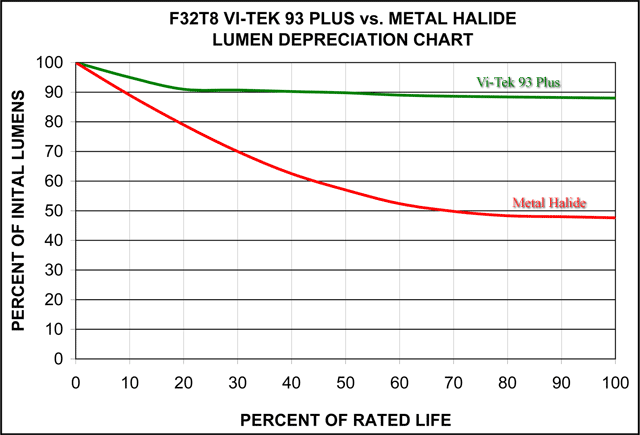 Spec Sheet:: HH3101-Spec.pdf