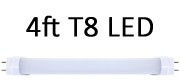 4 Foot T8 LED

30 Watts

7 Year Warranty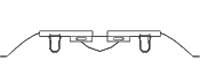 Evenly Spreads Light
USA Made with US Steel
Product Description
If you currently have a 2×4 Layin Fixture with 3 or 4 T8 or T12 Lamps, use this kit to convert it to 2 Vi-Tek 93® Plus T8 LED sticks.
The kit features a very easy installation system with prewired sockets and NEMA disconnect. The included Vi-Tek 93® Plus LED sticks are the best, natural daylight, full-spectrum LEDs on the market. Our Retrofit Kits come with a maintenance free 7 year warranty. The kits have USA manufactured steel and are assembled in the USA.
With energy savings, better quality of light, and our no-hassle, no questions asked warranty, you've got nothing to lose! Make the switch today to the best, brightest, full spectrum natural daylight LED sticks on the market.
Have a question? We're here to help! Let's chat.
Energy Savings
The 2 T8 LED sticks only use 30 watts.
| | | |
| --- | --- | --- |
| Replace | Watts | Savings |
| 4 F40T12 | 168 Watts | 138 Watts |
| 3 F40T12 | 126 Watts | 96 Watts |
| 4 F34T12 | 144 Watts | 114 Watts |
| 3 F34T12 | 108 Watts | 78 Watts |
| 4 F32T8 | 112 Watts | 82 Watts |
Features
Prewired Kit
The sockets are prewired.
Tool-Free Reflector Attachement
No tools are required for reflector installation or removal.
Replacement Socket-Bars
The socket bars are made from .032" pre-painted cold-rolled steel and are prepunched for lampholders and wire passageway. They install with self-tapping screws. The tabs on the socket bars allow for tool free installation and removal.
95% Specular Reflector
The CNC formed .020" specular aluminum reflector has 4 mirrored angles per lamp for unsurpassed lamp imaging. The reflector produces even lighting patterns to eliminate shadows and hot spots.
Warranty
The retrofit kit and LED sticks are warrantied for 7 years.
Wiring
Remove the existing ballast and socket bars.
The new socket bars are centered at the ends of the fixture and fastened with two self-tapping screws.
Use the pre-wired quick connect to connect AC to the sockets.
Position the reflector between the socket bars.
By applying slight compression to the reflector peak, the tabs on the socket bar are aligned with the punchouts in the reflector.
When the compression is released, the tabs securely hold the reflector in place.
Install the 2 Vi-Tek 93® Plus T8 LED sticks.
Specifications
Made In:
USA

Manufactured from US Steel and Assembled in USA

Includes:
Warranty:
7 Years for the retrofit kit and LED sticks
Direct Wire Voltage:
120-277
Watts:
30
Spec Sheet: HH3006/LEDD2 Spec Sheet