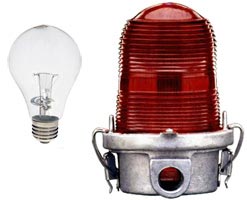 130V 91% Krypton Task-Master® Obstruction
HH219
Free Shipping on Orders Over $200
130V, 116W. Exceptional Traffic Signal Light. Perfect companion to our Code Beacon bulbs. Rugged, Tested, Quality-assured: Up to 8,000 hours, 1 Year No-Hassle Warranty.
When it comes to Task-Master™, there's simply no competition!
Our 116 Watt Task-Master™ Obstruction lamps are the perfect companion to our Task-Master™ Code Beacon lamps, and stand on their own as exceptional incandescents. They can even be used as traffic signal bulbs. Made with durable materials and the same rigourous quality as all our Task-Master™ Code Beacon bulbs, they're bright, dependable, and long lasting—exactly what you need when lives depend on light. And with a life-rating up to 8,000 maintenance-free hours, you'll save on maintenance and replacement costs, as well as the number of bulb-changing operations done at hazardous heights, or that require shutting down intersections.
Made of our high-quality clear glass means they won't cloud up, and the rugged tungsten filament shrugs off wind vibration and shock that would destroy ordinary filaments. The medium nickel-plated brass base won't corrode or "freeze" in the socket, even after thousands of hours of use.
H&H Task-Master™ Obstruction lamps are the only choice for traffic signals and all types of air traffic hazards: cell towers, radio and TV towers, water towers, microwave towers, building towers, hospitals, bridges, power lines, power plants, and wherever lives depend on light and safety.
Click on the Description tab below for more specs and details, and learn what sets Task-Master™ apart.
Have a question? We're here to help! Let's chat.
Product Description
Crystal Clear Glass Envelope
We use soda lime glass, which offers maximum clarity and means our bulbs aren't cloudy like other bulbs. Soda lime glass also allows for a high degree of thickness contol, while minimizing ring molds.
91+% Krypton fill-gas
Krypton burns brighter and cooler than Argon.
Rugged C9 Tungsten Filament & Design
We use the toughest, most rugged C-9 tungsten filaments, designed to withstand physical shock and vibration that would shatter ordinary filaments. In fact, they're subjected to the same rigorous testing as equipment on U.S. Naval vessels, and 99% of our lamps withstood a force exceeding 7G,  easily surpassing any punishment they'll withstand in a traffic signal or on a tower. They're supported at nine different points and designed to project optimum beam pattern and thus eliminate the center dead spot.
Special Lead Wire Supports
Two additional supports add strength to the filament mount and assure proper alignment of the lead wires and the spring steel arbor.
Spring Steel Arbor
Sturdy spring steel arbor provides maximum resilience to withstand bulb-killing shock and vibration.
2 Wrapped Lead Wires
Both lead wires are individually warpped in protective fiberglass sleeves to prevent "arcing".
Built-In Reflector Disk
Specially designed mica reflector disk, held securely in place by sturdy wire braces, redirects otherwise lost light and protects base and socket from intense bulb heat.The polished aluminum reflector disk redirects light and protects the base from intense heat
Medium Nickel-Plated Brass Base
The medium nickel-plated brass base won't corrode or "freeze" in the socket, even after thousands of hours of use.
8,000 hour life. One Year Free Replacement Warranty: No questions asked.
Long lamp life saves on maintenance and replacement costs, and reduces bulb-changing operations at precarious heights. And if a bulb burns out before one year, we'll replace it for you, no questions asked.
Specifications
*Only includes bulb. Does not include cover.
Case Quantity:
120
Watts:
 116
Volts:
130
Lumens:
1,260
Type:
 A21
Base:
 Medium
MOL:
4.375"
Lamp Life:
8,000 Hours
Warranty:
 1 Year
Made In:
Mexico