Includes T8 HBF Ballast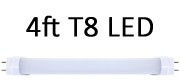 4 Foot T8 LED
42 Watts

7 Year Warranty
(Ballast is 5 Years)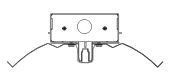 Evenly Spreads Light
USA Made with US Steel
Product Description
If you currently have a 8 foot fixture with 2 F96T12 single pin lamps, use this kit to convert it to 2 Vi-Tek 93® Plus T8 LED sticks.
The kit features a very easy installation system with prewired sockets and ballast disconnects. The included Vi-Tek 93® Plus LED sticks are the best, natural daylight, full-spectrum LEDs on the market. Our Retrofit Kits come with a maintenance free 5 year ballast warranty and a 7 year warranty on our Vi-Tek 93® Plus LED sticks. The kits have USA manufactured steel and are assembled in the USA.
With energy savings, better quality of light, and our no-hassle, no questions asked warranty, you've got nothing to lose! Make the switch today to the best, brightest, full spectrum natural daylight LED sticks on the market.
Have a question? We're here to help! Let's chat.
Energy Savings
The 2 T8 lamps and ballast only use 42 watts.
| | | |
| --- | --- | --- |
| Replace | Watts | Savings |
| 2 F96T12 | 158 Watts | 116 Watts |
| 2 F96T12 ES | 120 Watts | 78 Watts |
Features
Prewired Kit
The sockets are prewired to the ballast. Snap the socket bars apart and attach to your 8 foot fixture channel as shown below.
Universal Voltage 120-277 Volt
The high lumen ballast has a -20º F start, a NEMA ballast disconnect and easily installs with self-tapping screws.
One Piece Center Bracket
The one piece center bracket simplifies and speeds up installation.
Tool-Free Reflector Attachement
No tools are required for reflector installation or removal.
Replacement Socket-Bars
The replacement socket-bars fold around either a 4.25" or 5" channel and attach with self-tapping screws.
White Reflectors
The white enamel reflector has a 92% reflective finish. The reflector is CNC formed from .020" aluminum and have 13 mirrored angles for unsurpassed lamp imaging. The reflector produces even lighting patterns to eliminate shadows and hot spots.
Warranty
The reflector and LED sticks are warrantied for 7 years, and the ballast is warrantied for 5 years.
Wiring
Remove the existing ballast covers, ballast, and socket bars.
Install the new ballast.
The new socket bars are attached to the existing channel with two self-tapping screws.
Position the reflector between the socket bars and attach with quarter-turn fasteners.
Install the 2 Vi-Tek 93® Plus T8 LED sticks.
Specifications
Made In:
USA

Manufactured from US Steel and Assembled in USA

Includes:
Warranty:

7 Years for the retrofit kit and LED sticks
5 Years for the ballast

Voltage:
120-277
Watts:
42
Spec Sheet: HH3002/LED Spec Sheet