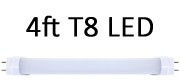 4 Foot T8 LED
60 Watts

8,400 Lumens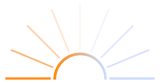 6700K
(Brightest White)

83 CRI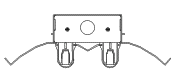 Evenly Spreads Light

Not Dimmable

Operating Temp
-4°F to 113°F

7 Year Warranty
USA Made with US Steel
Product Description
Transform your 8-foot fixture using our fluorescent to LED retrofit kit, converting 2 F96T12 HO lamps into 4 Vi-Tek 93® Plus T8 LED sticks.
Renowned for its easy installation and natural daylight, this kit comes with prewired sockets and NEMA disconnect. Assembled in the USA with USA-manufactured steel, it carries a maintenance-free 5-year warranty.
Choose the best and brightest full-spectrum natural daylight LEDs on the market. Make the switch today and enjoy energy savings, improved lighting quality, and our no-hassle, no questions asked warranty.
Have a question? We're here to help! Let's chat.
Energy Savings
The 4 T8 LED lamps only use 60 watts, providing substantial savings:
| | | |
| --- | --- | --- |
| Replace | Watts | Savings |
| 2 F96T12 HO | 238 | 178 Watts |
| 2 F96T12 HOES | 202 | 142 Watts |
| 2 F96T8 HO | 151 | 91 Watts |
Features
Prewired Kit:
Snap and attach to your 8-foot fixture.
One Piece Center Bracket
Simplifies and speeds up installation.
Tool-Free Reflector Attachement
No tools are required for easy installation and removal.
Replacement Socket-Bars
The replacement socket-bars fold around either a 4.25" or 5" channel and attach with self-tapping screws.
Enhanced Aluminum Reflectors
95% reflective, CNC formed, 13 mirrored angles for perfect lighting.
7-Year Warranty:
Peace of mind for both retrofit kit and LED sticks.
Wiring
Remove the existing channel cover and socket bars.
Use the pre-wired quick connect to connect AC to the sockets.
The new socket bars are attached to the existing channel with two self-tapping screws.
Position the reflector between the socket bars and attach with quarter-turn fasteners.
Install the 4 Vi-Tek 93® Plus T8 LED sticks.
Specifications
Brand
H&H Industries
Reflector
Enhanced Aluminum Reflector
Includes
Watts
60W
Lumens
8,400 Lumens
Color Temp
6700K
(Brightest White)
Color Accuracy
83 CRI
Direct Wire Input Voltage
100-277 AC, 0.2A 50-60H
Operating Temperature
-4 to 113°F
-20 to 45°C
Lamp Life
50,000 Hours
Dimmable
No
Fixture Warranty
7 Years
LED Warranty
7 Years
Made In
USA
Manufactured from US Steel and Assembled in USA
Spec Sheet: HH3003/LEDD2 Spec Sheet